On May 11, 2018, along with the successful completion of the third series of B-phase withstand voltage test of 1000 KV GIS, all special tests of 1000 KV GIS have been successfully completed in Guquan Converter Station (+1100 KV) under the construction management of the DC Construction Branch of State Grid Corporation. State Grid Hubei Electric Power Research Institute and Jiangsu Shenghua Electric Co., Ltd. provided a self-developed 1200 kV GIS integrated insulation test platform, which greatly reduced the forgetting test hoisting work and improved the reliability and safety of the test.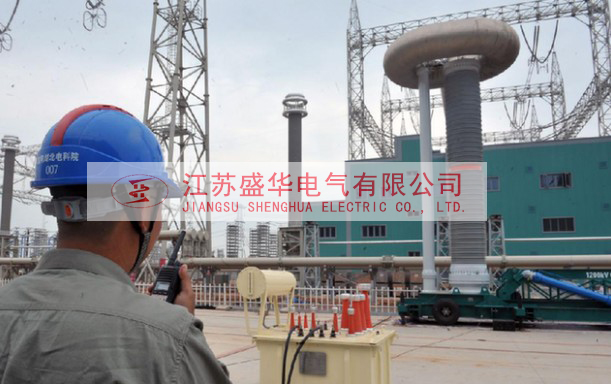 According to reports, +1100 KV Changji-Guquan UHVDC project has a total line length of about 3324 kilometers. Its voltage level has risen from (+800 KV) to (+1100 KV), transmission capacity has risen from 6.4 million KW to 12 million KW, and economic transmission distance has risen to 3,000 to 5,000 KW. It can transmit 66 billion KWh of electricity to East China every year. At the same time, Hubei Academy of Electrical Sciences undertook special field test of electrical equipment in two converter stations.
Chen Jun introduced that the traditional test method could not meet the actual work needs in the GIS field test of Guquan Converter Station (+1100 KV). In order to improve the test efficiency, Hubei Academy of Electrical Sciences has independently developed the first set of 1200 KV GIS integrated insulation test platform in China by using artificial intelligence technology. The platform integrates the key test equipment such as high voltage reactor, high voltage divider and pneumatic equalizing ring. It adopts the working principle of missile launcher motor launching, realizes efficient and rapid deployment on the spot through hydraulic chassis and hydraulic lifting and overturning device, and realizes the assembly and motorization of the device. Compared with the traditional test device, 80% of the test preparation time is saved and the site safety risk is greatly reduced. It is reported that the test platform will declare more than ten national patents.
Wu Chuanqi, head of field test of Hubei Academy of Electrical Sciences, introduced that after the Changji-Guquan Project was put into operation, the daily power transmission was nearly 200 million kilowatt-hours. If the converter station needed to be urgently vacant, it would need to be re-insulated after replacing the equipment before it could be put into operation. It would take 72 hours for the traditional test equipment to enter, construct, carry out the test, dismantle and leave the site. More than an hour. Now with this test platform, all the test tasks can be completed in eight hours.
In 2017, the first SF6 gas impulse voltage generator was successfully developed. SF6 gas was used instead of traditional transformer oil as insulation medium. The whole equipment was compressed in a sealed tank filled with SF6 gas. On the one hand, the volume of the equipment was reduced, on the other hand, the physical characteristics of SF6 gas also improved. The insulation performance of the whole set of equipment and the safety of employees are effectively guaranteed.

In 2013, 1250kV/4A armoured frequency conversion resonance test set was successfully developed, and now it is running in New Northeast Electric Group High Voltage Switch Co., Ltd. The development of this set of equipment fills the gap of SF6 gas equipment used in 1000 kV voltage and 5000 pF load capacity in China.
In 2017, Dr. Deng Junbo, School of Electrical Engineering, Xi'an Jiaotong University, was successfully introduced.